TSAVO
TSAVO is a real estate investment company based in Nairobi, Kenya. We design, build, sell and manage apartments specifically for investment. Our focus on only studios and one- bedroom apartments is because they are affordable and yield the highest return.
TSAVOISM
At the heart of TSAVO is a core that does not change; our North Star that guides our vision, strategy, long term goals, methods and performance standards. TSAVOISM is made up of Purpose, Core Values and Business Model.
Our Business Model
To enable working professionals invest in their Financial Independence
requires an end-to-end investment ecosystem built on Specific, Methodical and Consistent strategic practices. TSAVO therefore designs, sells, builds, and manages studio and one-bedroom apartments specifically for investments. We ensure our decisions are data driven and thereby making our investments low risk. The evolution of this ecosystem stemmed from these critical strategic considerations:
TSAVORITES
These are the talented, the disciplined, and the passionate. They are driven, fierce, and ambitious. The heavens are above them, the earth below them and fire within them. When asked "what do you do?" their singular reply is "Whatever it takes!" They are the iconoclastic ones who engage with the purpose like it's about to go extinct. They value experience and partner with the disciplined; taking their tasks as responsibilities, they work for no one but the truth, the noble, the great.
Leonard Mcharo – Director
Emily Mcharo, CFA – Director
Jacqueline Njuhi – Finance
Martha Inyuma – Investment Consultant
Isaac Mwamburi – Investment Consultant
Jonathan Musyoki – Procurement
Grace Muriuki – TSAVO Lifestyle
Joseph Mwendwa – TSAVO Lifestyle
Daniel Too – Master Builder
Hillary Bore – Master Builder
Teddy Maiyo – Master Builder
Sam Kyalo – TSAVO Communication
Tuesday, June 22nd, 2021 at 6:10am
Start your investment journey with us...
We are here to enable you achieve your financial goals.

Build wealth wisely. https://t.co/Vi2ybm23mS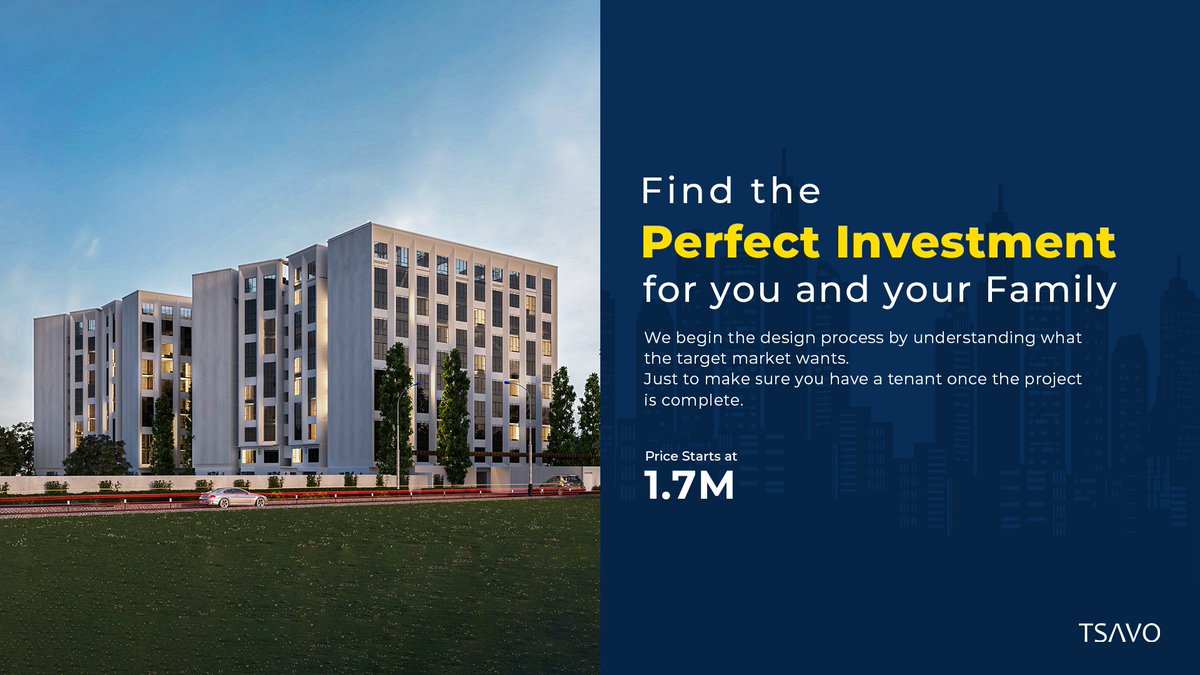 Monday, June 21st, 2021 at 6:03am
We are a Real Estate Investment company.

We design, build, sell and manage apartments, for Investment purposes.

Wanna know how this works?
DM us today. https://t.co/tVhgSbK9Xl